S-1604-L POLYESTER BASED EMULSION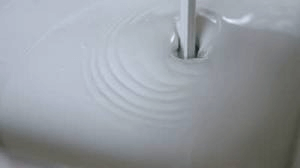 Polyester Based Emulsions
Polyester resins are synthetic polymers linked by ester groups. Polyesters are used by many different industries for their numerous properties.  Common applications for polyester based products include anti-edge wicking products, food packaging and barrier coatings.
S-1604-L
S-1604-L is a water and grease resistance barrier coating designed to provide a flexible, printable and adhesive surface to a variety of substrates.  Properties of S-1604-L include:
Excellent water resistance

Good oil and grease resistance

Formulated to be repulpable and recyclable

Self-Crosslinking

Printable

Glueable
S-1604-L meets the following FDA requirements:
21 CFR 176.170 Components of paper and paperboard in contact with aqueous and fatty food subject to the extraction limitations in paragraph (c) for the finished form.

21 CFR 176.180 Components of paper and paperboard in contact with dry food.
Common Applications for Polyester Based Products
Anti-edge wicking products
Food packaging
Barrier coatings
Contact us for more information on how S-1604-L can work in your application.
---