SNP Eductors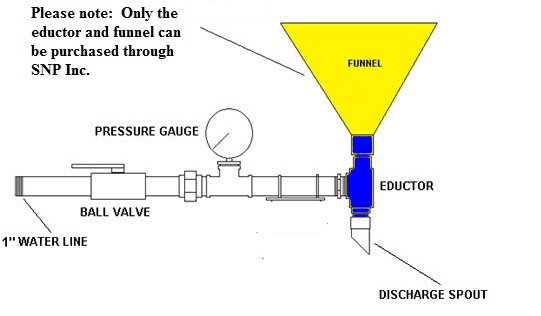 When working with dry polymers, it is essential that they be added and diluted properly to prevent problems like lumping or fisheyes. If the dry polymer particles are not individually hydrated, clumps of un-dissolved polymer will form. These clumps will result in plugged pipes, ball valves, check valves and filters. Adding dry polymers too quickly or too slowly can create inconsistent batches in your liquid system.
SNP's eductor can prevent most of these issues by providing an efficient system for the addition of water-soluble polymers such as guar, polyvinyl alcohol, xanthan gum, sugar, starches, sodium alginate, polyacrylamides and more. Using venturi action, our eductor pulls the dry product uniformly into a water vortex thus wetting the particles and ensuring hydration of these particles in the system.
An SNP eductor is easy to install. It requires a water source of at least 50 psi to create a strong vacuum. Once your water pressure is up to 50 psi, add your material to the intake and the eductor does the rest. A SNP eductor can be used manually by adding material via the large funnel or it can be integrated into an automated system.
Our eductor is designed for long lasting service. We stock a full line of replacement parts should your eductor require service or a spare dry zone insert. Every SNP eductor includes complete installation and usage instructions.
If you aren't sure how to integrate an eductor into your system, give us a call at 919-598-0400 or contact us here. Our engineers are experienced at designing and implementing dry addition systems and will be glad to assist you in the selection and installation of your new SNP eductor.
---